The Best Gluten-Free Blueberry Muffins
The Best Gluten-Free Blueberry Muffins
These gluten-free blueberry muffins are packed with fruit and topped with a little granulated sugar to give the muffin top a pleasant crunch.
Prep Time 15 minutes
Cook Time 20 minutes
Total Time 35 minutes
Servings 15 muffins
Author GlutenFreeBaking.com Elizabeth Barbone
Ingredients
2 cups Bob's Red Mill 1-to1 Baking Flour* (9 3/4 ounces / 275 grams)
2 tsps baking powder
1/2 tsp salt
1/2 cup butter, softened (4 ounces/ 113 grams)
3/4 cup granulated sugar (6 ounces/ 170 grams)
2 large eggs
1 tsp vanilla extract
1/2 cup milk (4 ounces / 150 grams)
2 cups blueberries
1/4 cup granulated sugar optional, for topping
Instructions
Preheat oven to 350 degrees F. Lightly grease 15 muffins cups or line them with paper liners.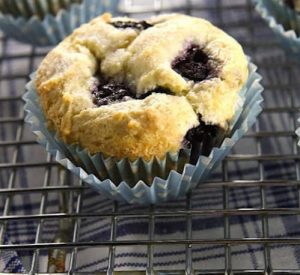 Whisk together the flour blend with the baking powder and salt in a small bowl. Set aside.
In a large bowl, combine butter and granulated sugar. Beat on medium-low speed until thick. With the beater still running, add the eggs. Beat until combined.
Add the dry ingredients and mix on low speed. Mix until thick. Stop the mixer and add the milk and vanilla extract. Mix until a thick batter forms.
Gently fold in the blueberries with a rubber spatula. (If you are using frozen or cold blueberries, the batter will get VERY thick. This is totally normal.)
Spoon batter into prepared muffin pans. Fill each cavity about 2/3 full. Top each muffin with about 1 teaspoon of granulated sugar. (The sugar topping is optional.)
Bake until a cake tester inserted into the center of one of the muffins comes out clean, about 25 minutes.
Allow muffins to cool in the pan for five minutes and then transfer to a wire rack to cool completely.