Smashed Cucumber and Chicken Salad
We found this recipe was great for a light dinner or make ahead for a weekday lunch. Fast, nutritious, and delicious!
INGREDIENTS
2 NK cucumbers
¼ tsp. salt
¼ cup canola oil
2 tbsp. seasoned rice vinegar
1 tsp. granulated sugar
1 tbsp. minced fresh ginger
2 tbsp. Chili-garlic paste
1 tbsp. tamari or soy sauce
1 tsp. Sesame oil
1/2 Ontario Greenhouse Grown Red Pepper, seeds and pith remove and sliced thinly
½ cup torn fresh cilantro
¼ cup torn fresh mint
3 cups cooked shredded chicken
Optional: ½ cup chopped peanuts
INSTRUCTIONS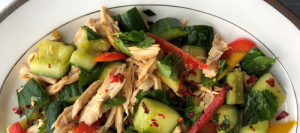 Cut the cucumbers in half lengthwise and place cut side down on to the cutting board.
Use a mallet or rolling pin and smash the cucumber along its length.  Discard any seed membranes that pop out and then cut the cucumber into bite-sized pieces.
Toss the cucumber pieces with 1/4 tsp. salt and place in a fine mesh sieve, set over a bowl, to drain. Let the cucumber sit for 10 min.
In a large bowl, whisk together canola oil, rice vinegar, sugar, ginger, chili-garlic paste, soy and sesame oil. Mix in the drained cucumbers, red pepper, cilantro, mint and shredded chicken.
Spoon the salad out on to a platter and garnish with chopped peanuts.
Recipe by: Andrea Buckett for OGVG