Cucumber Guacamole
This different twist on guacamole adds some refreshing crunch with Nature Knows cucumbers! Leaving the peel on provides most of the nutrition in cucumbers, making this already healthy dip even better! Make cucumber guacamole for your next gathering or as a creamy and crunchy dip before a home movie night.
Cucumber Guacamole
INGREDIENTS
2 ripe avocados, washed, skinned and pitted
3 Nature Knows Mini Seedless Cucumbers, washed and chopped
6 Nature Knows Grape Tomatoes, diced
2 cloves garlic, minced
1 lime, zested and juiced (2 tbsp./30 mL of juice needed)
1 tbsp. (15 mL) olive oil
2 tbsp. (30 mL) chopped fresh cilantro
salt and pepper to taste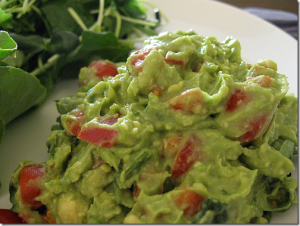 INSTRUCTIONS
1. Use a fork to mash the avocados in a medium bowl.
2. Add all remaining ingredients to the avocado and mix well together.
3. Taste and add more salt, pepper or lime juice.
4. Place a thin layer of plastic wrap over mixture to keep air out and place in the refrigerator.
5. Place the avocado pits in the bowl with the mixture before putting in the fridge. This helps to keep the avocado from browning. Best eaten the day it is prepared.