Zucchini & Prosciutto Roll-Ups
Try Zucchini & Prosciutto Roll-Ups for something different this school year. Fresh and healthy lunch options for the kids going back to school and your lunch too!
Prep Time 5 min Total Time 20 min
Serves: 4
INGREDIENTS
2 medium zucchini, ends trimmed
½ cup baby arugula
6 slices prosciutto, cut in half lengthwise
½ cup hummus
INSTRUCTIONS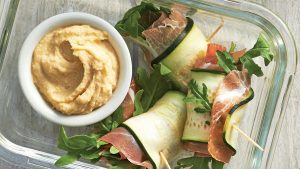 1. Using mandolin slicer, cut each zucchini lengthwise into 6 long, thin slices; 12 pieces total.
2. Arrange arugula and prosciutto on each slice of zucchini. Roll up layers into a tight pinwheel and secure with a toothpick. Make 12 rolls.
3. Tightly cover and chill, up to 24 hr., before serving. Serve with hummus for dipping.
TIP Serve with a variety of dips or spreads such as spinach dip, herb and garlic cream cheese or guacamole.