ZESTY/ZEN SOUP
Showcasing Ontario greenhouse vegetables, the spicy red pepper tomato soup (Zesty) wakes up your taste buds while the cooling cucumber (Zen) gives a soothing balance.
Recipe credit: Ontario Greenhouse Vegetables Growers
Prep Time: ½ hour Cooking Time: 1 hour Recipe Yield: 12 Servings: ¼ cup each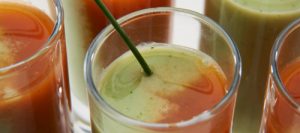 THE ZEN INGREDIENTS:
Cucumber
Pepper
Tomato
Chop cucumber and place in blender with lime juice, cilantro, dill, buttermilk and goat cheese, blend until smooth. Season to taste with salt and pepper. Chill until service.
THE ZESTY INGREDIENTS:
2 large Ontario Greenhouse Seedless Cucumbers
½ cup cilantro
1 lime, juiced
¼ cup fresh dill
1 cup buttermilk
½ cup goat cheese
Rub olive oil on peppers and place under broiler until blackened on all sides. Place blackened peppers in a plastic bag for 15 minutes. Peel off skin, remove core then chop peppers. Heat olive oil over medium heat. Add onions and garlic, cook until soft. Stir in tomatoes, peppers, thyme, paprika and sugar. Cook until tomato juices have evaporated. Stir in chicken broth, cayenne pepper and Tabasco sauce. Bring to a boil then simmer, covered for 20 minutes. Cool a little and then purée in a blender. Season to taste with salt and pepper. Chill until service.