BUNNY'S BEST SOUP (AKA CARROT SOUP)
Warm up to this calming carrot soup. It also tastes great cold! Your kids will love this recipe!
Makes 6 servings
Takes 45 minutes
INGREDIENTS:
2 lbs (1 kg) NK Ontario carrots, peeled and chopped
1 Ontario onion, chopped
1 Ontario celery stalk, sliced
1 bay leaf
4 cups (1 L) water or chicken stock
1 can (385 mL) 2% evaporated milk
1/4 tsp (1 mL) pepper
1/4 tsp (1 mL) nutmeg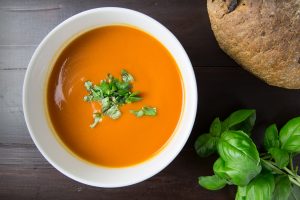 INSTRUCTIONS:
In a large saucepan, bring carrots, onion, celery, bay leaf and water to a boil.
Reduce heat and simmer for 20 to 25 minutes, or until vegetables are very tender. Throw away bay leaf.
In batches, purée mixture in a blender or food processor until smooth. Stir in evaporated milk, pepper and nutmeg until well blended.
Photo Courtesy of Holland Marsh Growers' Association