Nature Knows is named Food Entrepreneur of the Year by Full Tilt!
Andrea Watson was honoured to be named Food Entrepreneur of the Year at the Full Tilt 2019 Conference. The conference was an amazing intersection and collaboration from many different areas involved in the food industry. We were thrilled to be part of this groundbreaking event and look forward to continuing the discussion and collaboration.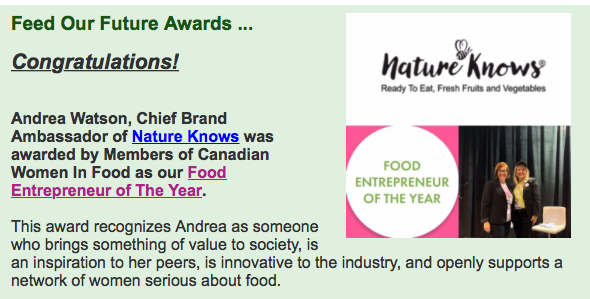 The food sustainability movement is one of the most exciting trends in the world today. From alternative proteins to enhanced nutraceuticals, the movement addresses many of the world's most pressing problems such as climate change and water scarcity. Not surprisingly, women are leading the charge to tackle these problems before it's too late.
Women see the future of food as a collaborative space, working every day in creating and strengthening a global food ecosystem that touches every human. It's all connected. Our modern system of food employs 40% of the global workforce, touching many different industries from energy to packaging to production, each with its own, and at times conflicting agenda.
FULL TILT was the intersection between women in food, art, science, industry, agriculture, and policy. Where entrepreneurs, industry titans, and senior leaders from top companies come to learn, laugh, absorb, and engage.