ARUGULA SALAD WITH FRESH MOZZARELLA, TOMATO, AND BASIL VINAIGRETTE
This deconstructed Caprese salad makes an excellent light lunch, appetizer, or side. Using the best, freshest ingredients possible really makes this salad sing.
Created by author: Katherine Martinelli
Yield: 4 side servings or 2 main
Ingredients
Salad:6 ounces arugula
10 ounces Nature Knows sweet tomatoes (about 12), halved
4 ounces bocconcini, or cubed fresh mozzarella
Basil Vinaigrette:
2 cloves garlic
1 small bunch basil (about 3 ounces), leaves picked
¾ cup olive oil
3 tablespoons fresh-squeezed lemon juice
1 tablespoon dijon mustard
Salt and pepper
Instructions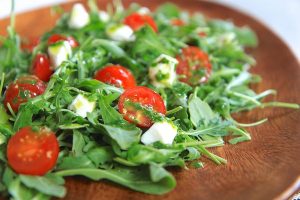 For the Salad:
Combine the arugula, tomatoes, and mozzarella in a salad bowl or on individual plates.
Drizzle the basil vinaigrette (recipe below) over.
Basil Vinaigrette:
Put the garlic in a food processor and pulse to mince. Add the basil leaves and pulse a few times.
Add the olive oil, lemon juice, and mustard and process until fully combined and emulsified (there may still be small bits of basil). Season with salt and pepper.
Serve immediately or store in a cruet or closed glass jar in the fridge for up to 1 week.