GARLIC TOMATO BASIL CHICKEN
Garlic Tomato Basil Chicken
Prep Time 5 mins
Cook Time 15 mins
Total Time 20 mins
Grape tomatoes burst and cook through a buttery garlic sauce in the Garlic Tomato Basil Chicken recipe! Dinner on the table in minutes!
Ingredients:
4 chicken breasts fillets, skinless and boneless*
Salt and pepper, to season
1/2 teaspoon garlic powder
1 tablespoon butter, divided
1 tablespoon olive oil, divided
2 cups Nature Knows sweet tomatoes, halved
1/4 cup fresh basil, shredded
1 1/2 tablespoons minced garlic or 6 large cloves of garlic
Directions: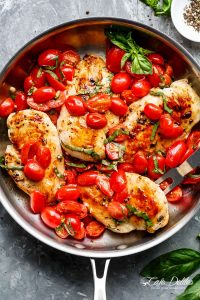 Lightly pound chicken breasts between 2 sheets of parchment paper until they are all the same thickness. Season with salt, pepper and garlic powder.
Heat 2 teaspoons of oil and 2 teaspoons of butter in a skillet or pan over medium-high heat. Fry breasts on both sides until golden browned and completely cooked through (about 5-6 minutes per side, depending on the thickness of your fillets). Once cooked, transfer to a plate and tent with foil to keep warm.
Heat remaining butter and oil in the pan. Fry garlic until fragrant (about one minute). Add the tomatoes and cook for two minutes, or until they just begin to soften. Turn off the heat and stir through basil.
Season with any extra salt and pepper, if needed. Add the chicken back into the pan, and spoon the pan juices and tomato/garlic mixture all over the chicken!
Perfect to serve with a salad, garlic bread, rice or pasta!
Serve with balsamic glaze for extra flavour! (Use store-bought, or bring 1/2 cup balsamic vinegar to a simmer over low heat until thickened.)