Getting Kids Involved in the Kitchen!
The holidays are a great time to get the kids involved in the kitchen. Try these ideas so they get involved:
1.  Mean Green Cleaning Machine. Let them wash fruits and vegetables when preparing for cooking or eating.
2.  Pick A Peck! When shopping, let them select a new fruit or vegetable to try … or several!
3.  Make It Snappy! Let them snap the green beans, snap peas, or break the flowerets from the broccoli or cauliflower.
4.  I Spy. Play "I Spy" in the produce section when grocery shopping.
5.  Tear It Up! Let them tear the lettuce for salads and sandwiches.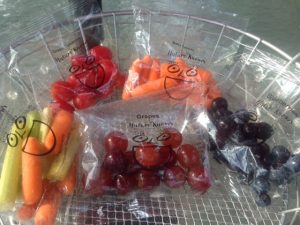 6.  Measure Up! Let them measure the frozen vegetables before cooking them. See How Much You Need
7.  Peel & Slice. Older children can peel and slice carrots, cucumbers, potatoes … the list goes on!
8.  Stir & Spice. Make applesauce from fresh apples. Let them help stir and add the cinnamon.
9.  A Sprinkle A Day… Let them sprinkle herbs or other seasonings onto vegetables.
10.  Monster Mash! Pull out the potato masher!