BEEF AND VEGETABLE RAGOUT
This lean version of traditional French stew is perfect on a cold winter's night!
Prep 25 m
Cook 40 m
Ready In 1 h 5 m
Recipe By: KIM VANCE
Ingredients
3/4 pound beef tenderloin, cut into 1/2 inch strips
1 tablespoon olive oil
1 1/2 cups fresh mushrooms, sliced
1 medium onion, chopped
2 cloves garlic, minced
2 teaspoons all-purpose flour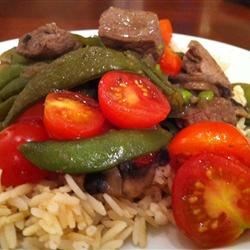 1/2 teaspoon salt
1/4 teaspoon black pepper
1 (14.5 ounces) can beef broth
1/4 cup port wine
2 cups Nature Knows sugar snap peas
1 cup Nature Knows grape tomatoes, cut in half
Directions
Heat olive oil in a large skillet over medium-high heat. Brown meat 2 to 3 minutes. Remove meat to paper towels. Stir in mushrooms, onion, and garlic; cook until onion is soft.
Sprinkle in flour, and stir well to mix. Season with salt and pepper. Stir in broth and wine; cook, stirring occasionally until sauce is thickened. Stir in snap peas; cook 2 to 3 minutes more. Return meat to skillet. Stir in tomatoes, and heat through.