Lasagna
"Fresh" is a word not often associated with lasagna, yet that's precisely the sensation this one offers. Sweet-as-candy grape tomatoes burst and release their moisture and flavour, while earthy-bitter broccoli rabe and milder Broccolini balance the taste.
Ingredients
1 (1lb.) bunch broccoli rabe, trimmed 1 (8oz.) bunch
Broccolini, trimmed
2 1/2 tbsp. extra-virgin olive oil, divided
1 1/2 cups chopped onion, divided
10 garlic cloves, thinly sliced and divided
1/4 cup dry white wine
4 cups grape tomatoes 3/4 teaspoon kosher salt, divided
1/4 teaspoon crushed red pepper
1/2 cup chopped fresh basil, divided
1 (15-ounce) carton part-skim ricotta cheese
1 cup low-sodium marinara sauce
9 cooked lasagna noodles
3 ounces part-skim mozzarella cheese, shredded (about 3/4 cup)
Directions
1. Bring a large pot of water to a boil. Add broccoli rabe and Broccolini, and cook 2 minutes. Drain and rinse vegetables under cold water; drain. Coarsely chop.
2. Preheat the oven to 350°.
3. Heat a large nonstick skillet over medium-high heat. Add 1 tablespoon oil; swirl to coat. Add 3/4 cup onion and 5 garlic cloves; cook 2 minutes, stirring occasionally. Add wine; cook 1 minute. Add grape tomatoes and 1/4 teaspoon salt; cook 12 minutes or until skins split and tomatoes start to release their juices, stirring frequently. Place tomato mixture in a bowl.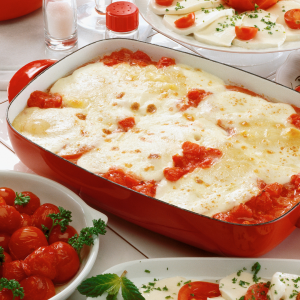 4. Wipe pan dry with paper towels. Return pan to medium-high heat. Add remaining 1 1/2 tablespoons oil; swirl to coat. Add remaining 3/4 cup onion, remaining 5 garlic cloves, and red pepper; sauté 4 minutes. Stir in broccoli rabe mixture and 1/4 teaspoon salt; cook 3 minutes. Remove from heat.
5. Combine 1/4 cup basil, ricotta, and remaining 1/4 teaspoon salt in a bowl. Spread 1/2 cup marinara sauce in the bottom of a 13 x 9-inch glass or ceramic baking dish coated with cooking spray. Arrange 3 lasagna noodles over sauce. Spread half of ricotta mixture over noodles. Top with half of broccoli rabe mixture; spoon half of tomato mixture over broccoli rabe mixture. Repeat layers with remaining noodles, ricotta mixture, broccoli rabe mixture, and tomato mixture, ending with noodles. Top with remaining 1/2 cup marinara, and sprinkle with mozzarella. Cover with aluminum foil coated with cooking spray. Bake at 350° for 30 minutes. Uncover and bake for an additional 15 minutes or until top is lightly browned. Remove lasagna from oven, and sprinkle with remaining 1/4 cup chopped basil. Let stand for 10 minutes before serving.