Honey-Lime Shrimp & Grilled Corn Salad
Honey-Lime Shrimp & Grilled Corn Salad is a perfect weekend meal idea. It was created by @cleanfoodcrush! Check out their profile on Instargram.
Makes about 6 servings.
Honey-Lime Shrimp + Grilled Corn Salad⠀
Ingredients:⠀
2 cups fresh, organic corn kernels, cut from the cob⠀
1.5 lb. medium shrimp, peeled and deveined ⠀
2 Tbsps. avocado oil, or olive oil ⠀
1 Tbsp. smoked paprika ⠀
1/4 tsp. each sea salt and pepper ⠀
1.5 cups roma tomatoes, diced ⠀
1 large avocado, diced ⠀
1/3 cup fresh cilantro leaves, chopped ⠀
1 fresh jalapeno pepper, thinly sliced, seeds removed ⠀
For the honey-lime dressing: ⠀
2 Tbsps. fresh lime juice ⠀
2 tsps. raw honey⠀
2 small fresh garlic cloves, minced ⠀
2 Tbsp. extra virgin olive oil ⠀
Instructions:⠀Place a grill basket on an outdoor grill and heat to medium heat. Place the corn in the grill basket and cook until lightly charred, occasionally tossing.⠀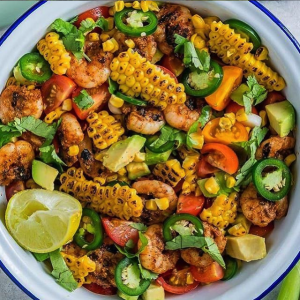 In a medium bowl, add the shrimp with the oil and then add smoked paprika, sea salt and pepper. Toss until evenly coated. ⠀
Transfer the cooked corn to a large bowl. Lightly grease the grill and then place the shrimp on. Cook until the shrimp are pink and opaque, about 2 minutes per side. Add shrimp to the corn bowl. ⠀
Add in the tomato, avocado, cilantro and jalapeno. Gently combine. In a small glass bowl, whisk together all the dressing ingredients. Pour the dressing over the salad, and very gently toss to combine.
Enjoy!⠀