CARAMELIZED ONION & WHITE CHEDDAR PIZZA
This elegant Ontario Apple, Caramelized Onion and White Cheddar Pizza made with frozen puff pastry is a crowd pleaser! You'll love the flavour complements with it's sweet Ontario apples, mellow caramelized onions, tangy aged cheddar and fresh thyme. Cut into small squares for an appetizer, or serve with a crisp green salad for a light lunch.
Source: Ontario Apple Growers
TOTAL TIME 20 mins  PREP 10 mins  SERVINGS 4-6
INGREDIENTS
2 tbsp butter
2 onions, sliced into 1/4 inch rounds
2 NK Ontario Apples, cored and sliced into wedges
1/4 tsp each salt and pepper
1 tbsp cider vinegar
1/2 pkg. frozen puff pastry (1 sheet), thawed
1/2 cup shredded aged white cheddar cheese
1 tbsp chopped fresh thyme
DIRECTIONS
Before you begin: Preheat oven to 400¡F (200¡C). Melt butter in a large heavy skillet over medium-high heat. Cook onions until caramelized and softened, stirring occasionally, about 15 minutes. Stir in apple wedges and cook 5 minutes longer (apples will be firm and a light golden colour). Season with salt, pepper and vinegar. Let cool slightly.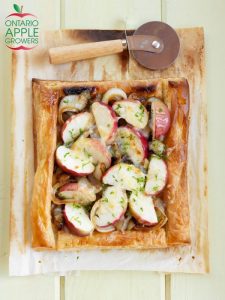 Roll puff pastry into a flat 10-inch (25 cm) square. Cut a 1/2-inch (1 cm) strip from each side. Brush the edges of the remaining pastry square with water and arrange strips on top, trimming, to form a border (or pizza crust) on all four sides. Using a fork, prick bottom of pastry all over. Arrange onion and apple mixture inside the border.
Sprinkle with cheddar and thyme.
Bake in the centre of preheated oven until pastry is puffed and golden and cheddar is melted and bubbly, about 20 to 25 minutes. Let cool 5 minutes before slicing into squares. Serve warm or at room temperature.
Chef Tip: The white cheddar can also be substituted with an equal amount of Gruyre or Smoked Applewood cheddar.Variety Tip: For best results, use Ontario Crispin, Empire or Russet apples.
Recipe courtesy of onapples.com