CARROT, PARSNIP AND APPLE SALAD
Who says you need greens to make a salad? This Carrot, Parsnip and Apple Salad is full of flavour and colour! Carrots add colour, parsnips add sweetness, apples and walnuts give you some extra crunch. Layering it all on top of a bed of peppery arugula is also delicious. This salad has it all!
INGREDIENTS:
2 cups (16 ounces) of arugula
1 1/2 cups chopped parsnips
1 1/2 cups chopped NK carrots
2 apples (We recommend a sweeter apple like Gala, Fuji, Courtland or Ambrosia)
1.5 tbsp extra-virgin olive oil (add a bit more to suit your taste)
2 tbsp pure maple syrup
1 tbsp lemon juice
Dash of sea salt and pepper each, to taste
1/2 cup chopped walnut pieces, OPTIONAL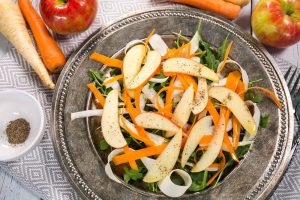 DIRECTIONS:
Add a layer of baby arugula to bowl/plate. Peel and chop end off of carrots and parsnips. Then continue using the vegetable peeler to create long strands of carrot and parsnip, until you get to the core. If this is at all woody, do not use in the salad (see Tip, below).
Wash, and core apples. Cut into small bite-sized pieces or thin slivers. Add to carrots and parsnips.
Using a fork, whisk the maple syrup, olive oil, lemon juice and salt and pepper together until emulsified. Pour over carrots, parsnips and apple and toss well. This can be done immediately before serving or even kept refrigerated in an airtight fridge for up to three days.
Before serving, sprinkle with chopped walnuts if desired.
Tip: If using larger carrots and/or parsnips, you may find their core slightly woody in texture. This will not enhance the salad but can be saved and added into a soup or pasta sauce to avoid food waste.