Packing Smart Lunches for Kids
Check out our suggestions to pack smart when it comes to our kids lunches this school year! It's all about the presentation when it comes to kids' lunches. Here's how to give them a surprise every time.
Shapes -Use cookie cutters, melon ballers or a ridged knife to cut sandwiches, fruits and veggies.
Compartments – Use a bento box to separate foods (great for picky eaters) to help kids visualize the components of a balanced lunch. Silicone or paper cupcake liners can be used in containers without compartments.
Colours – Pick a colour for each day of the week and let it define the contents. Here's an example: If the colour is green, stuff ingredients into a green tortilla with green beans or edamame on the side, and add grapes or slices of honeydew melon for a snack.
Themes – Let your child's favourite characters rule the lunch bag, whether from TV, movies or books. Make a superhero–inspired lunch with a sandwich cut into a star shape, with cherry tomatoes on the side and blueberries for dessert.
Skewers – Skewers are a fun and playful way to present sandwiches and chopped fruit and veggies. Skewers are your kids to help — they will have fun turning their food into stick figures and making one-of-a-kind skewer creations. Tip: Use coffee stir sticks or lollipop sticks instead of pointed skewers to prevent injuries.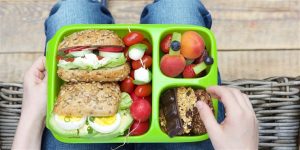 Rolls – Think beyond sushi-style rolls. Wraps are visually pleasing when cut into pinwheels, and cold rolls are always a hit.
Pack It Right – Here are few last suggestions!  Simplicity is key. Too many choices can mean extra packing time for parents, and too many flavours can be unappetizing for kids. To keep it cold use frozen drink boxes keep foods cool and are thawed by lunchtime.
Take cues from your kids. Notice what they enjoy at dinner or on weekends and add those items to their lunches.