CLASSIC ROASTED SALSA
Having salsa on hand is a must have for snacking! This homemade version is so easy, why even bother with store-bought? We love the deep, slightly smoky flavours in this version.
TOTAL 15 mins
TIME 15 mins
PREP 3 cups
Ingredients
4 cups Nature Knows grape tomatoes
1 medium white onion, halved
3 jalapenos
3 garlic cloves, unpeeled
3 tablespoons fresh lime juice (from 2 limes)
Coarse salt and ground pepper
1/4 cup chopped fresh cilantro
Directions
1. Heat broiler, with rack in top position. Place tomatoes, onion, jalapenos, and garlic in a single layer on a rimmed baking sheet.
2. Broil until vegetables are blistered and slightly softened, rotating sheet and flipping vegetables frequently, 6 to 8 minutes (garlic may need to be removed earlier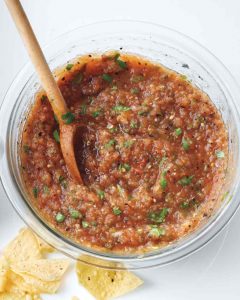 if it is browning too quickly).
3. Discard garlic skins. In a food processor, pulse garlic and vegetables until coarsely pureed. Add lime juice, season with salt and pepper, and pulse to combine.
4. Transfer salsa to a bowl and stir in cilantro. Refrigerate up to 3 days, freeze up to 3 months.
Cook's Notes:
If you prefer less heat, use fewer jalapenos or just remove the ribs and seeds.
For green salsa, use 1 1/2 pounds tomatillos in place of tomatoes and omit the lime juice.