Hamburger and Grape Tomato Pizza
This is so easy when you use frozen dough and ready-made sauce, making homemade pizza is easy as pie. Provolone has a richer flavour than mozzarella, so you don't need as much. Source: Everyday Food, May 2008
TOTAL TIME 30 mins  PREP 10 mins  SERVINGS 4
INGREDIENTS
2 teaspoons vegetable oil
All-purpose flour, for work surface
1 pound frozen pizza dough, thawed
3/4 cup marinara sauce
1 cup grated provolone cheese (4 ounces)
1 cup Nature Knows grape tomatoes, halved
1/2 medium red onion, thinly sliced (optional)
1/4 pound ground beef chuck
Coarse salt and ground pepper
DIRECTIONS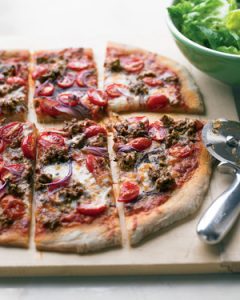 Preheat oven to 450 degrees. Rub a large rimless baking sheet (or a rimmed one, upside down) with oil.
On a lightly floured work surface, use a rolling pin and your hands to roll and stretch dough into a 15-by-11-inch rectangle (if dough becomes too elastic to work with, let it rest a few minutes). Transfer to prepared sheet.
Spread sauce evenly over dough, leaving a 1-inch border all around. Top with provolone, tomatoes, and if desired, onion; scatter beef over top. Season with salt and pepper.
Bake until crust is golden, beef is cooked, and cheese is melted about 20 minutes. Serve immediately.