TOMATO-CUCUMBER GAZPACHO
We are finally sharing our famous Tomato-Cucumber Gazpacho! Everyone loves this refreshing cold soup! Yum!
Makes 8 serving
Time 30
INGREDIENTS:
1 pounds NK Sweet tomatoes, quartered
1/2 seedless cucumber
1 red bell pepper, roughly chopped
1/4 cup extra-virgin olive oil
1 tablespoon salt
1 tablespoon sherry vinegar
1/4 cup diced red onion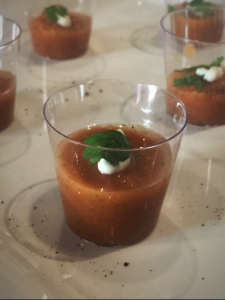 DIRECTIONS:
In a blender, whirl tomatoes, cucumber, pepper, olive oil, salt, and vinegar until smooth. (You may need to blend in batches.) Season with additional salt and pepper to taste. Garnish with red onion, if desired.