Tomato-Olive Stuffing
Tomato-Olive Stuffing
To stuff your turkey, you'll need 4 cups unbaked stuffing for a 12-pound bird. Stuff it right before roasting and bake remaining stuffing in a 2-quart baking dish. Source: Everyday Food, November 2011
8 Servings
Ingredients:
1 loaf crusty white bread, cut into 3/4-inch pieces (8 cups)
3 tablespoons unsalted butter, plus more for baking dish
1 medium yellow onion, diced medium
2 large celery stalks, diced medium
4 garlic cloves, roughly chopped
1 cup halved Nature Knows grape tomatoes
1 cup roughly chopped pitted Kalamata olives
2 tablespoons chopped fresh rosemary leaves
1/2 teaspoon red-pepper flakes
Coarse salt and ground pepper
1/2 cup roughly chopped fresh parsley leaves
3 large eggs, lightly beaten
3 cups low-sodium chicken broth
Directions:
Preheat oven to 400 degrees, with racks in middle and lower thirds.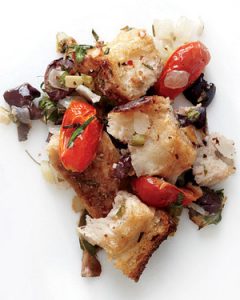 On 2 rimmed baking sheets, arrange bread in a single layer. Toast until dry and pale golden brown, 10 to 12 minutes. Let cool.
Meanwhile, lightly butter a 9-by-13-inch baking dish. In a large skillet, melt butter over medium. Add onion, celery, and garlic and cook, stirring frequently, until onion and celery are softened, about 7 minutes. Add tomatoes, olives, rosemary, and red-pepper flakes, and cook, stirring, 1 minute. Transfer to a large bowl and season with salt and pepper.
Add parsley, eggs, and bread; stir to combine. Add broth in 2 additions, stirring until absorbed after each addition. Season generously with salt and pepper and transfer stuffing to the dish. Bake on middle rack until deep golden brown on top, 25 to 30 minutes. Let sit 5 minutes before serving.
Perfect to serve with a salad, garlic bread, rice or pasta!
Serve with balsamic glaze for extra flavour! (Use store-bought, or bring 1/2 cup balsamic vinegar to a simmer over low heat until thickened.)